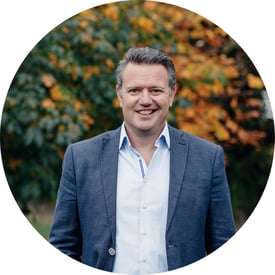 With the RBNZ recently sharing updated bank metrics for the period ending 31 March 2022, its time for us to dive back in and see what movements are afoot.
Welcome to the latest edition of our NZAB Bank Dashboard.
There's some surprising data in here - Bank lending growth continues to break records (and nearly all of it in the home loan sector) despite the changes that were implemented via the new CCCFA rules late last year.
Agri loan repayments are accelerating and nearly all of it in the dairy sector. At this rate, the dairy sector would repay all its debt ($37bn) in the next 14 years!
Business lending continues to have moderate growth for a 4th quarter in a row with Kiwibank making a massive charge over the last year with over 22% year on year growth in their business lending portfolio.
The big loser in the Business and Agri space is still ANZ - they have shed 1% market share in Agri in the last 12 months and almost the same in the business sector- seemingly to lend more to NZ housing.
Interestingly Westpac also appear to have stalled. For total loans, they're growing at half the New Zealand average and have shed a whopping 1.25% of market share in business banking alone over the last 12 months.
As always, if you have any questions, please contact us directly.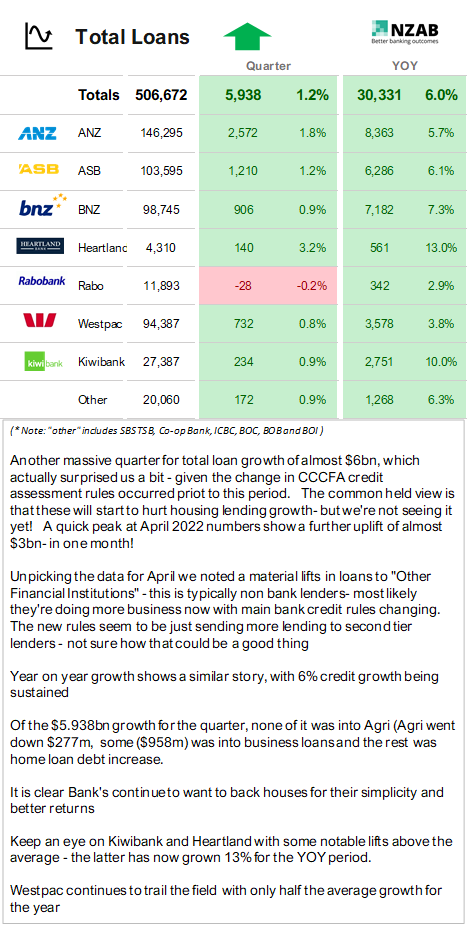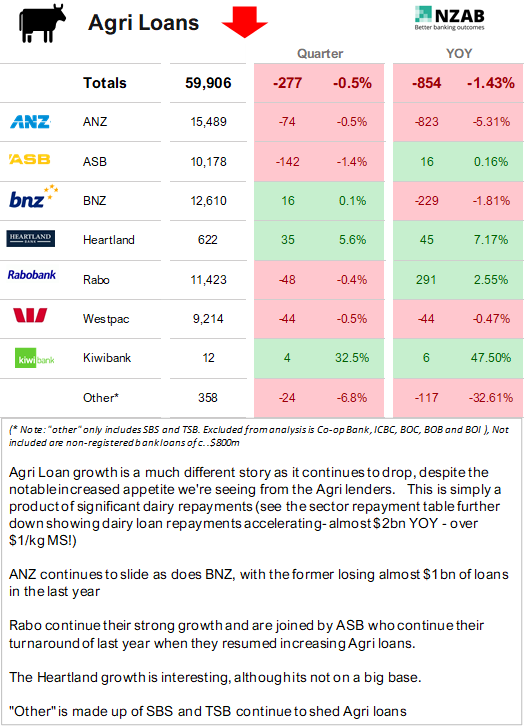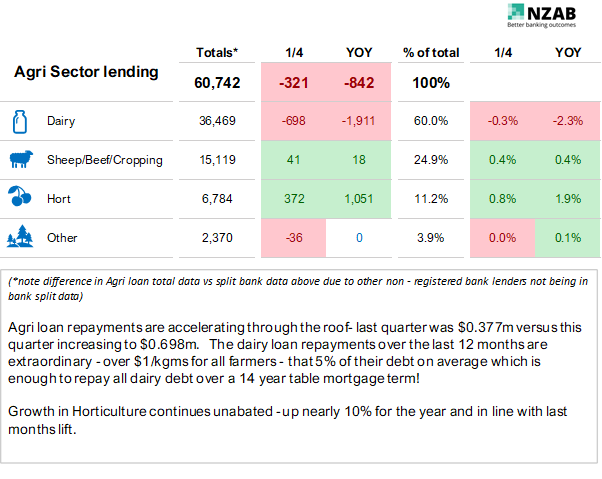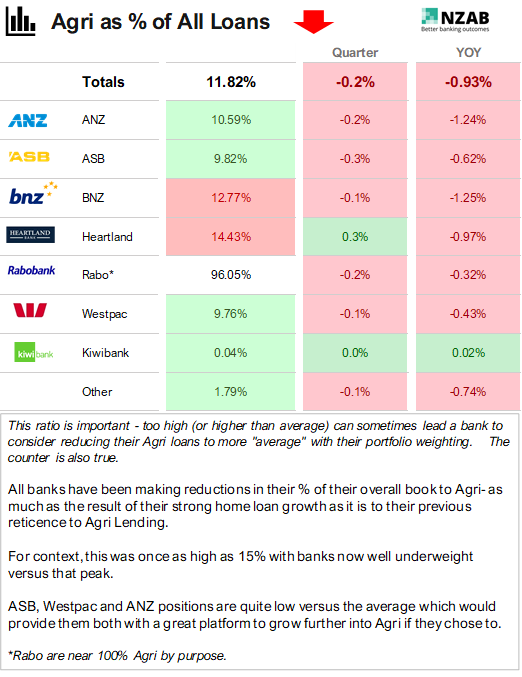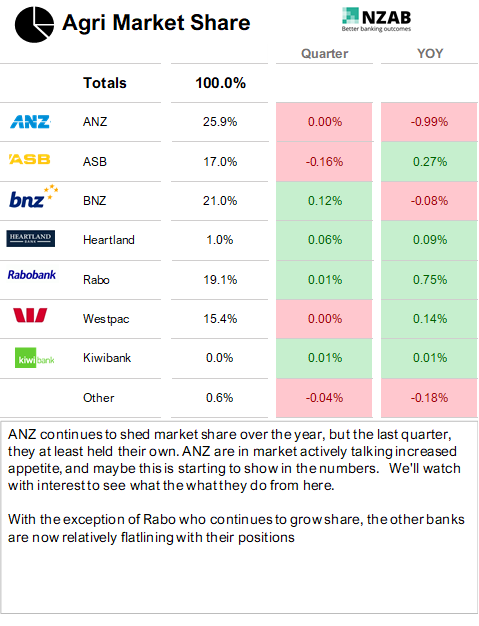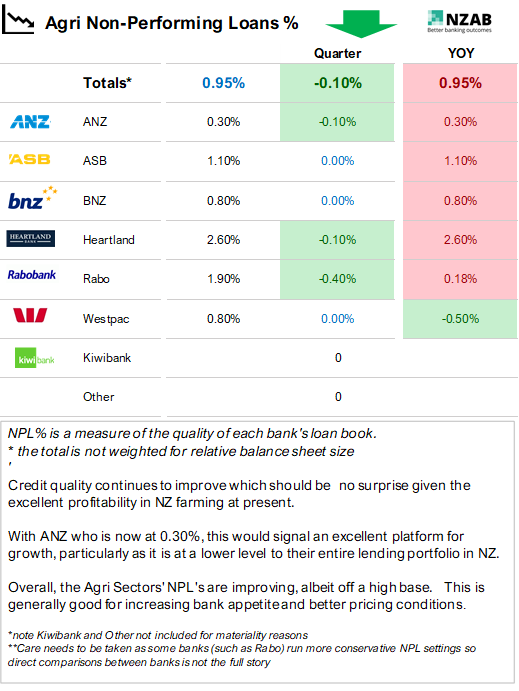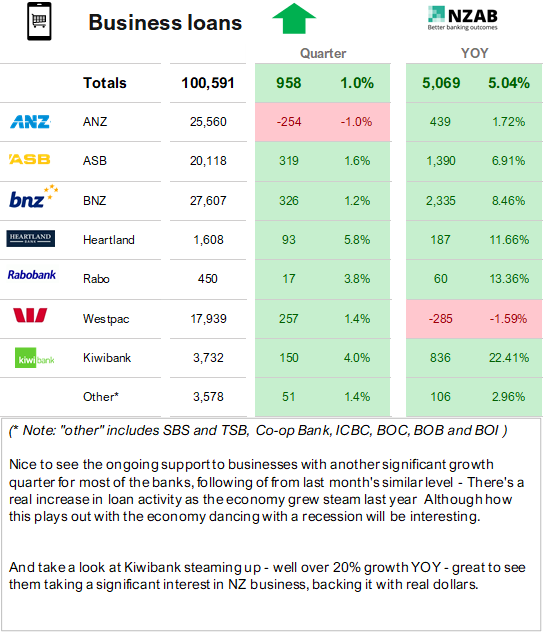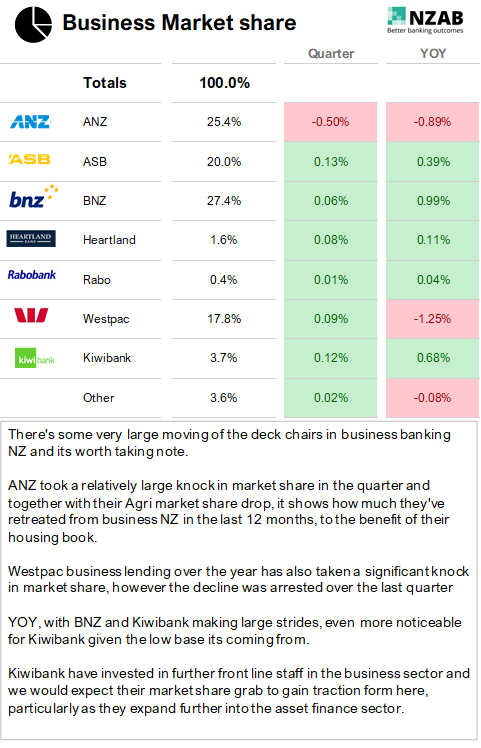 Who is NZAB?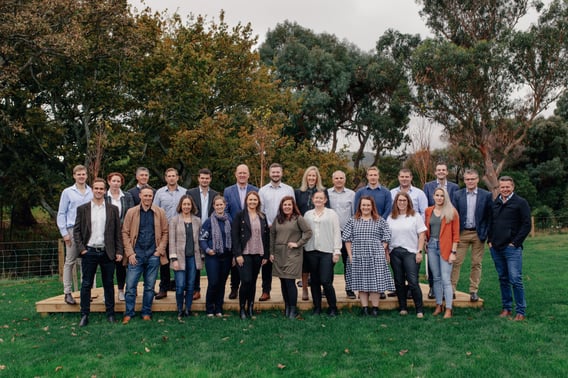 Farming's very complex and you can't be an expert in everything. That's why the best farmers gather a specialist team around them. Our specialty is better banking outcomes for our clients.
There's no one better to work alongside you and your bank. With a deep understanding of your operation and our considerable banking expertise, we can give you the confidence and control to do what you do best.
We've been operating for five years now and we're right across New Zealand, For an introductory no cost chat, pick up the phone and talk directly to one of our specialists on 0800 NZAB 12.
Or if you prefer, Visit us at our website or email us directly on info@nzab.co.nz