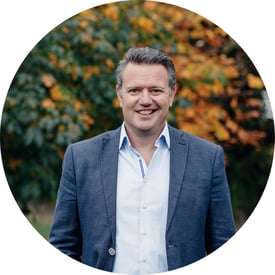 The recent announcement in this year's budget to provide greater support to New Zealand businesses created plenty of discussion, not least about whether or not government was equipped to be able to make a scheme like this work. To recap, you can find an article on this here: https://www.stuff.co.nz/business/128682597/government-to-invest-100m-taking-stakes-in-small-businesses.
But one thing the debate misses, is how much of a drop in the bucket the $100m amount is and how different, subtler regulatory changes would have significantly more effect.
Take this graph of bank funding to the different sectors, since 2008. We've chosen 2008 as a starting point, as that was post GFC and a raft of banking regulatory capital changes emanated from this time.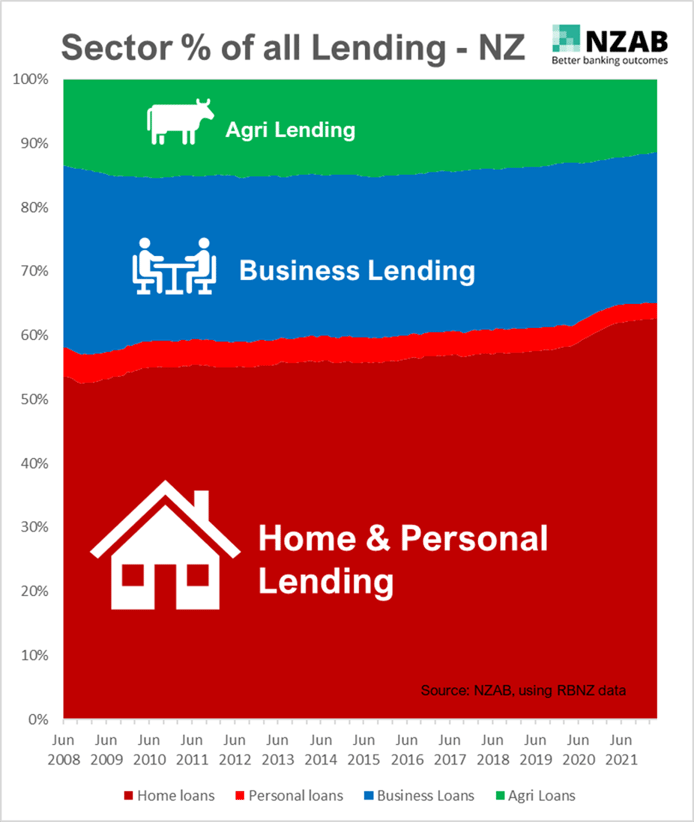 Since the GFC, Home and Personal lending has increased substantially, now making up over 65% of all bank lending, up from 59% back in 2008. This has come solely from banks' paring back on both Business and Agri lending.
This is due to the RBNZ capital requirements making Business and Agri loans less profitable to lend (coupled with the bank's natural desire to want to maximise profit), plus banks' own desire to manage costs by focusing on "easier to write" home loans.
The table below looks at those changes in more detail, with home loans up over 100% in that time, versus much slower growth of Agri and Business loans.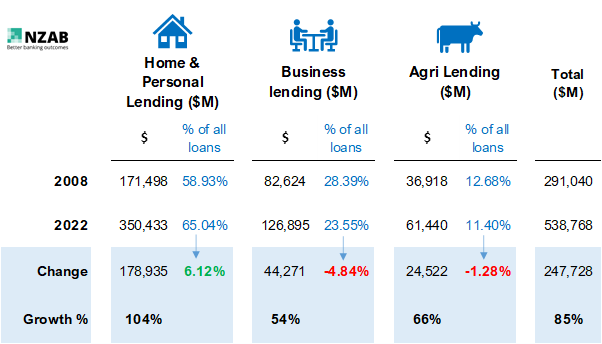 Over that time, Business and Agri loans have drifted backwards so that on a percentage basis, they now make up a lot less of the overall lending.
Those percentage changes might not look that big, but take a look at the table below which shows how much different the lending to each sector would have been if those percentages were maintained at 2008 levels.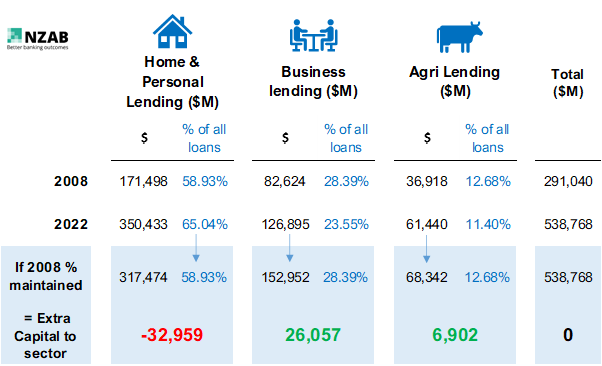 Put another way, if the percentage of lending to each sector was kept where it was in 2008, then there would be $33bn less lent to the home loan sector and $33bn more for both the Business and Agri sectors.
So, let's just pause for a moment. That's thirty-three billion dollars. Versus one hundred million dollars.
Think of the long term and perpetuating growth that an investment of $33bn in Business and Agri would provide.
An investment in Business or Agri can typically return three to six times that of ongoing GDP. That is anywhere between $100 to $200bn of additional GDP that might have gone begging over the last 14 years and into the future.
Now against that of course is the new housing that has gone up in this time, a business industry in itself. But there's no doubt that most of the additional capital has simply gone into elevated house prices, rather than real, recurring revenue streams.
So how to fix this?
At a macro level, getting the RBNZ to adjust the dials on relative capital requirements for their lending in each sector would be a great start. Whilst it might make a good sound bite to "make the banks lend to Business and Agri," that isn't going to happen unless there is some incentive to do so.
On the ground, it's also about encouraging other capital providers to these sectors by making the process of lending much easier for both sides.
Our role at NZAB is to expand the capital market for Farmers and Businesses.
At NZAB, not only do we deal across all the main banks, getting our customers great rates and terms, but we have access to a significant database of other non-bank lenders and private capital providers.
Our mission is to bring more of those entrants to the Agri and SME capital markets, so they see what we see - that New Zealand farming and Business is a great place to invest, for great returns over not just one year, but over a generation.
As always, we'd love to hear from you if you're after more capital to grow, or maybe you're an investor looking to participate in one of these sectors.
We regularly have private placement transactions in both debt and equity, so drop us a line on 0800 692 212 or via email andrew.laming@nzab.co.nz for a chat.
Who is NZAB?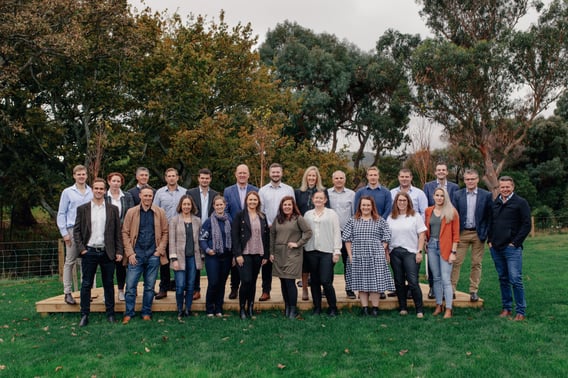 Farming's very complex and you can't be an expert in everything. That's why the best farmers gather a specialist team around them. Our specialty is better banking outcomes for our clients.
There's no one better to work alongside you and your bank. With a deep understanding of your operation and our considerable banking expertise, we can give you the confidence and control to do what you do best.
We've been operating for five years now and we're right across New Zealand, For an introductory no cost chat, pick up the phone and talk directly to one of our specialists on 0800 NZAB 12.
Or if you prefer, Visit us at our website or email us directly on info@nzab.co.nz